If you are in a store working on a project and need help or have questions, you can contact us through our In-Store Support channel in the Messages section of the app.
How to Access In-Store Support:
Open the menu by pressing the button at the top left. If you are in a project, you will have to go back to the app's home screen
Select Messages
Press + New Message
Choose the option at the bottom, "In-Store Support (9am-9pm EST)"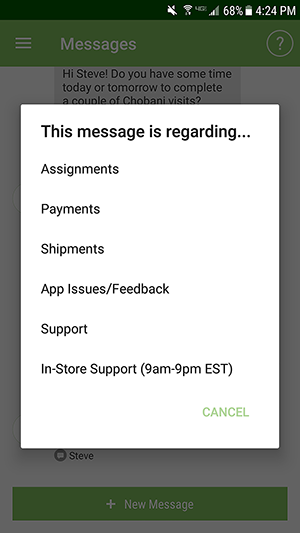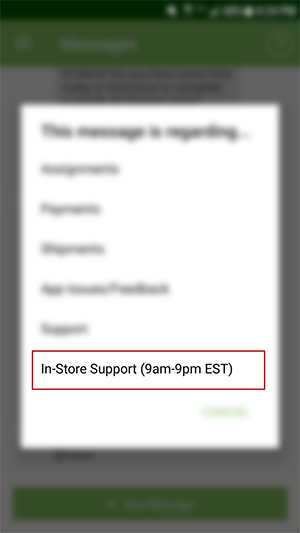 Q&A:
Is live in-store support available at all times?
No. It is available between 9am-9pm EST during the week. Weekend coverage will vary based on expected visit volume but we will try to answer your questions as fast as possible.
What is the difference between In-Store Support and regular Support?
In-Store Support is ONLY for problems or questions you have while in a store working on a project.
Regular Support is for everything else. General questions, feedback, etc. If you ask a general question, you will not get an answer right away.
How fast will I get an answer?
We will get back to you as soon as possible. Our goal is to reply within one minute. Actual times will vary based on volume.
Again, if your question is not actually about a problem you're having in a store, then it will not be answered as quickly. It will be answered, just not immediately.
Anything else I should know?
Yes. Please don't abuse this system. It's designed to make help you and everyone else get support while out in stores. It is the fastest way to get an answer, but please make sure you're using it only for problems or questions you're having in stores.