In this article, you will learn:
Overview: How to get a reset assignment
The only way to get assigned to a store for a reset is for a Survey.com project manager to assign you. That means you cannot sign up for a store on your own. And before you can get assigned, you must complete the Reset Qualification project in the app. (See below).
There are two ways you can let a Survey.com project manager know you're interested in a store:
Request the store through the app (most common)
Respond to a message from a project manager about a specific store
Also, to be assigned, you must have the Survey Merchandiser app. Click here for more info and download links.
Important:
The number of reset reps needed for each shift is limited. In many cases, the number of people requesting a shift exceeds the number of available spaces. That means not everyone will get assigned. You will not get every shift you request.
How Do I Get Qualified to Get Reset Assignments?
To be considered for resets, you will have to complete and pass the Reset Eligibility project in the Survey Merchandiser app. This project is a survey, so you can review the material and answer the questions from anywhere.
The Reset Eligibility survey explains the terms of service and policies specific to Survey's reset projects. Your answers will determine whether you are qualified and eligible to be considered for reset assignments. Topics include:
Basic requirements needed to be able to complete a reset, including

Past reset experience

Successful completion of training modules
Reliable transportation
Ability to lift 25lbs
Ability to work on your feet, including standing, bending, squatting, and crouching, for the entirety of your shift

Device and app usage policy while working in a store

Professionalism policy

How to work with Survey's scheduling and support team
Attendance policy
Survey's approval and payment policies
Cancellations
The project is available in the app. If you don't see it or have questions, please message Survey Support through the app or by emailing support@survey.com.
How to find and request a reset assignment in the app
Step 1: Go to the Available tab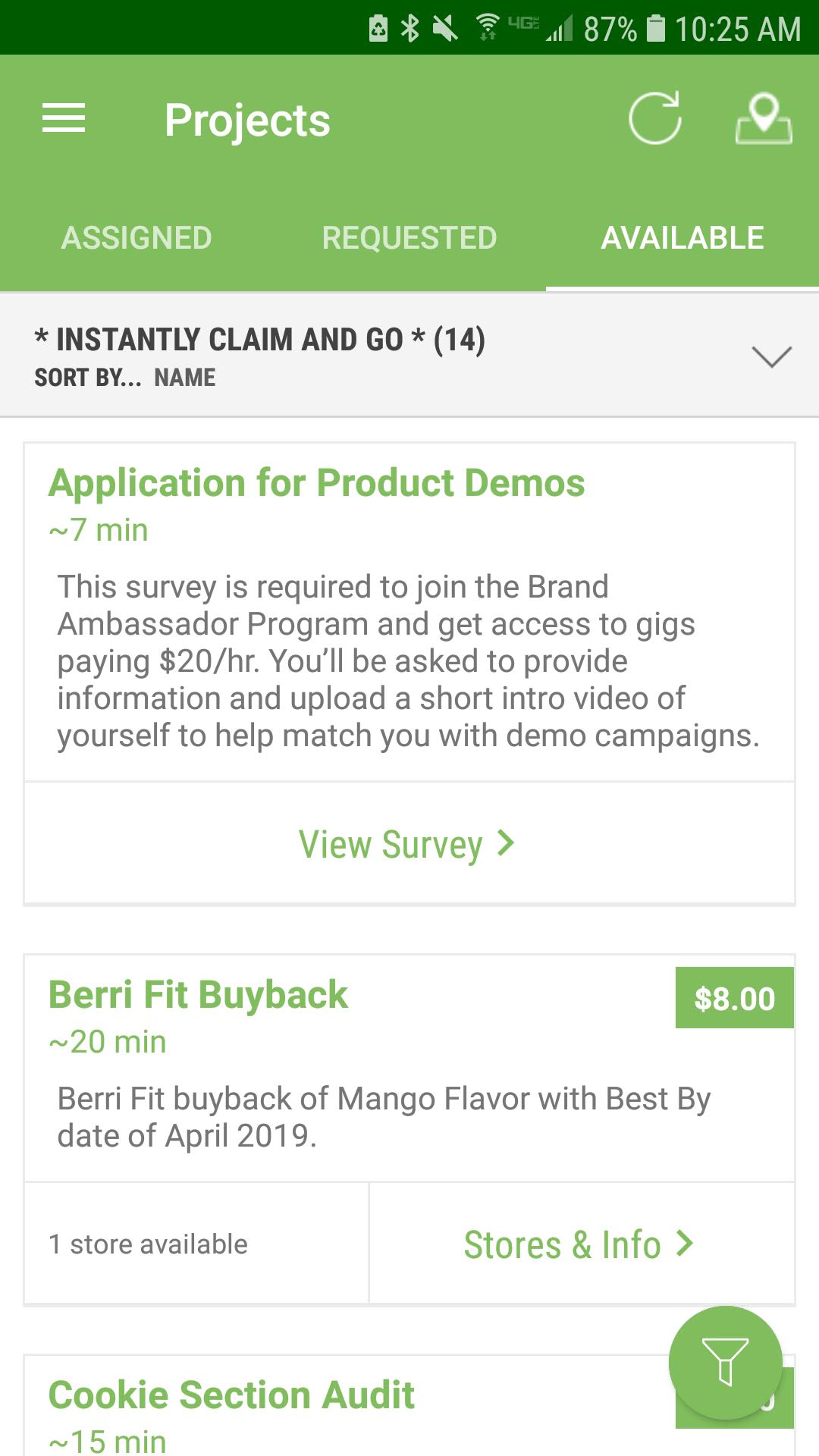 Step 2: Scroll down until you see projects with Store Resets in the name.
You may have to scroll quite a bit because the list begins with the Claim and Go assignments. Resets are in the Merchandising section.
If you're only interested in Resets, you can create a view to see only Resets. To do that, click the filter button (green circle at the bottom right of the Available list) and choose Resets, then Apply Filters at the bottom. This will show you only resets.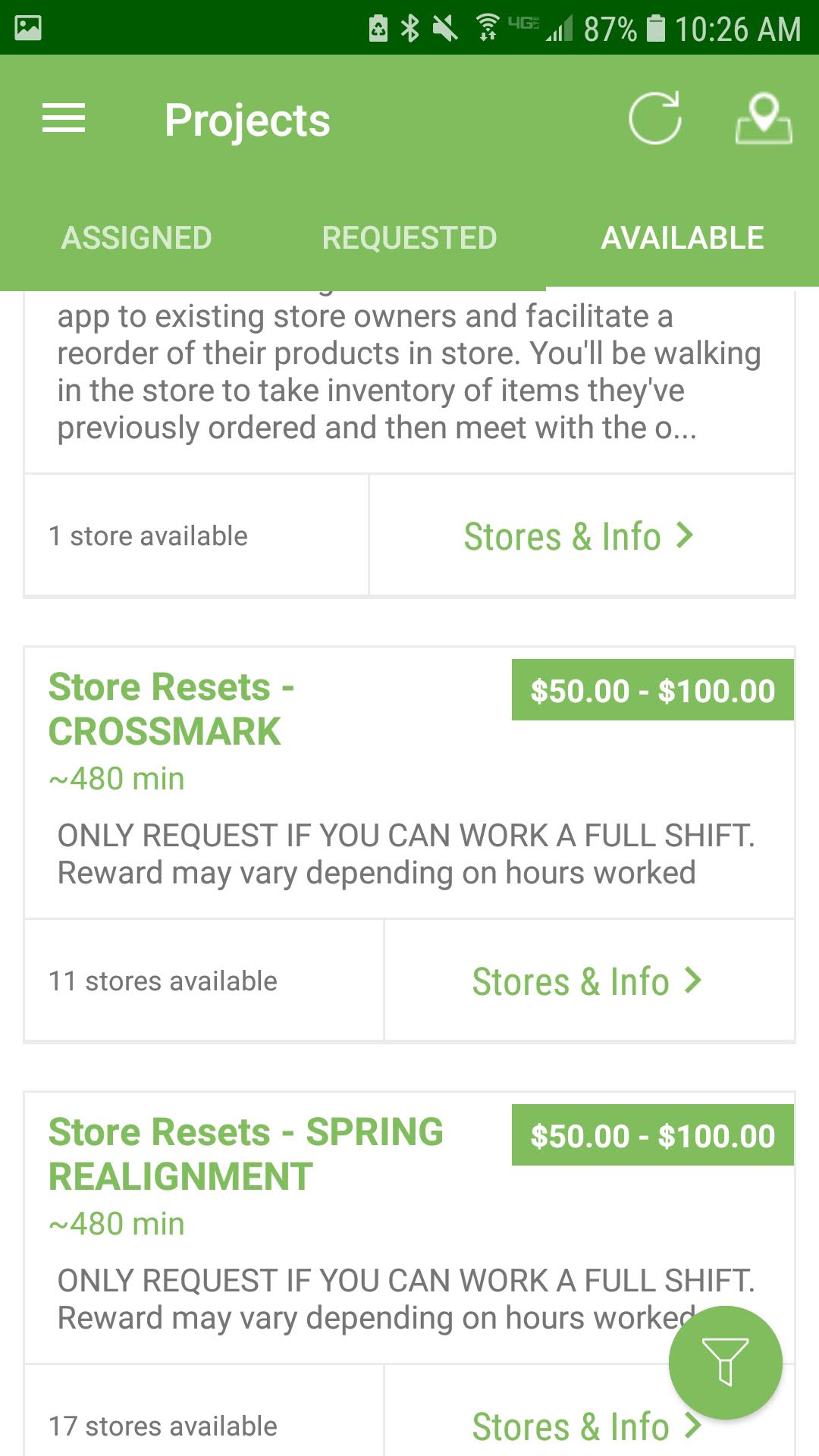 Step 3: Tap the Stores & Info Button to see the stores available to request.
You'll have to scroll down to get past the project details to see the available stores.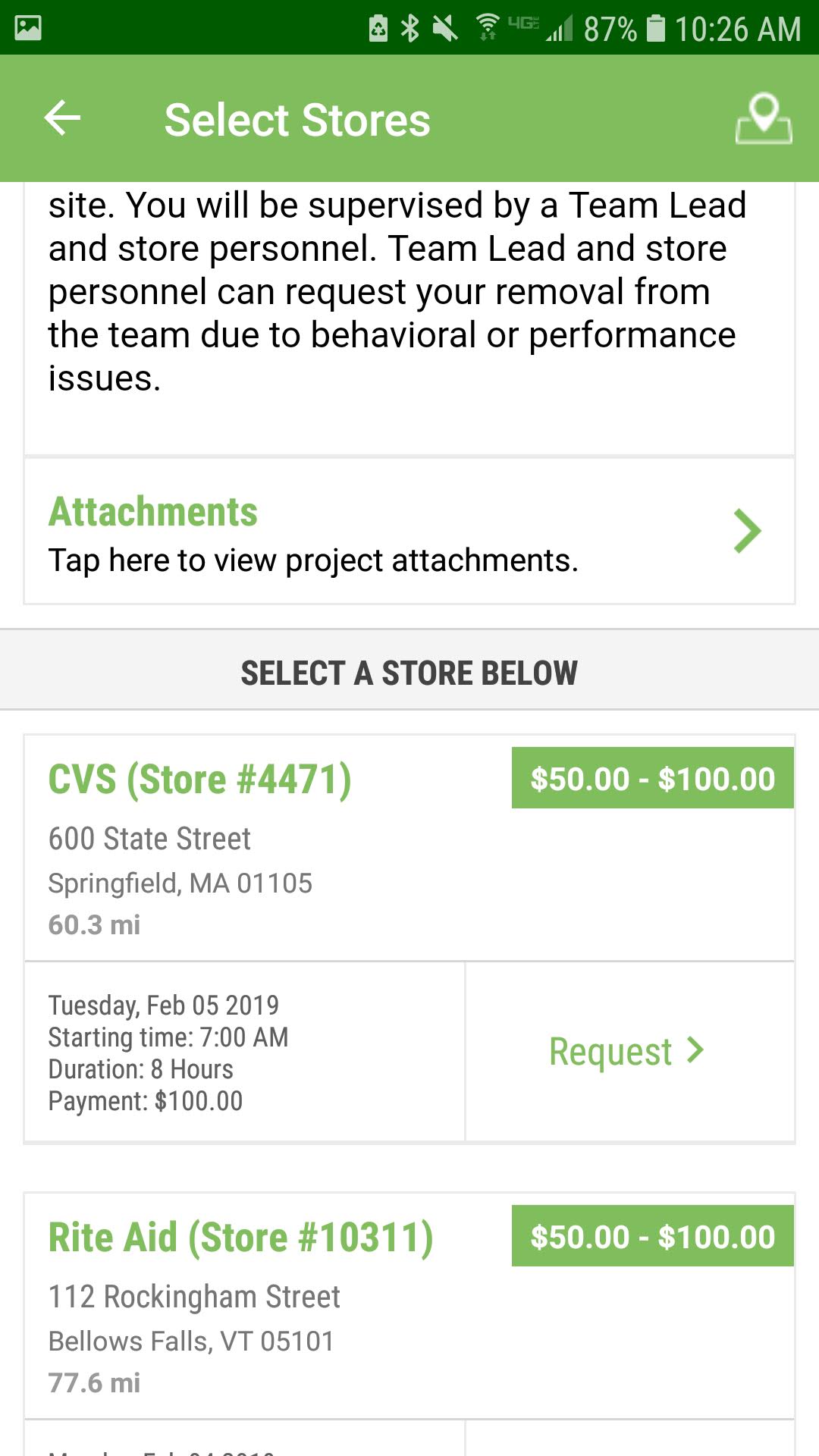 Step 4: Tap the Request button
You'll know you requested a store correctly because you'll get a confirmation message at the top of the screen.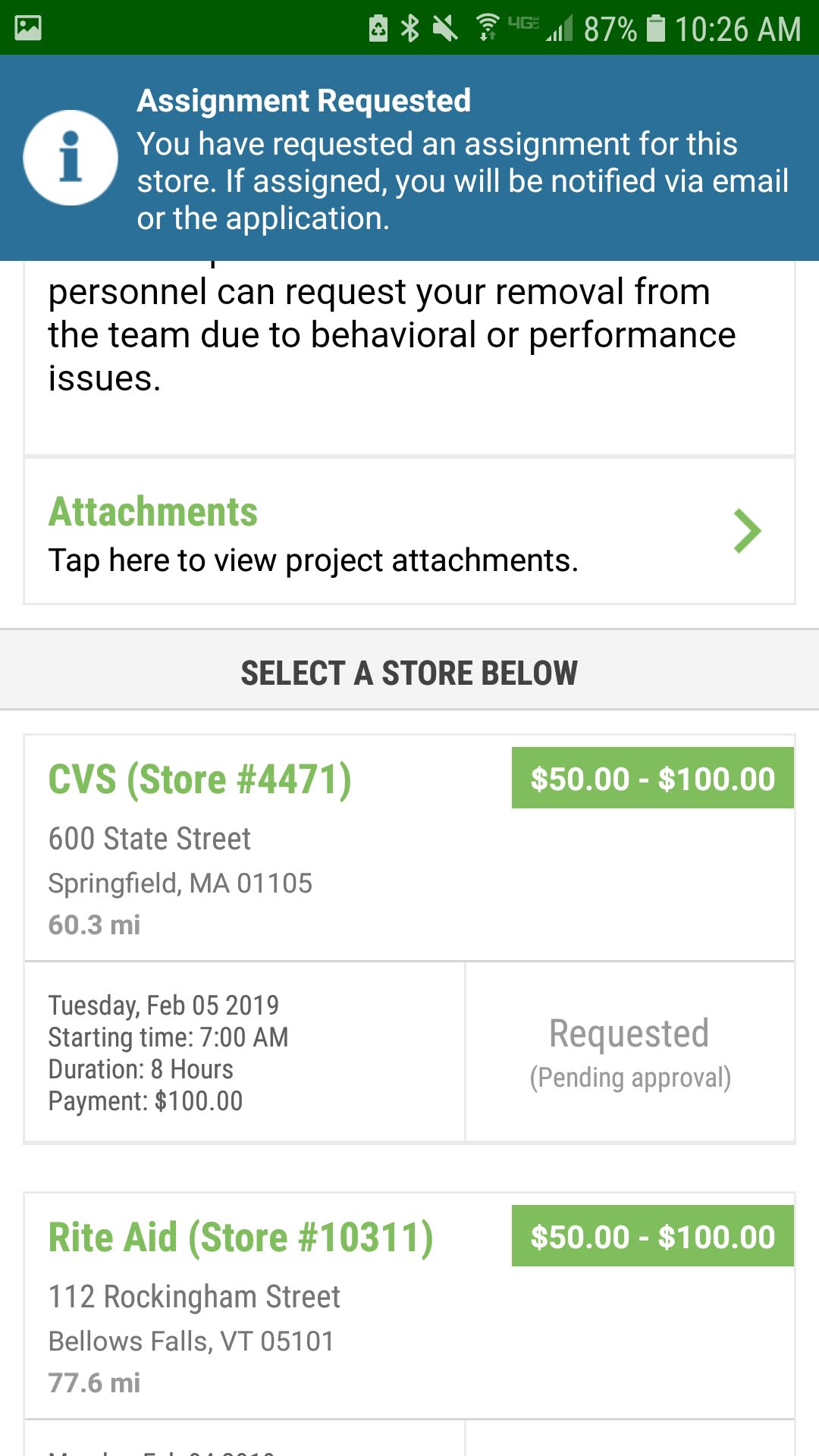 If you go back to the main screen, you can see stores you've requested by going to the Requested tab.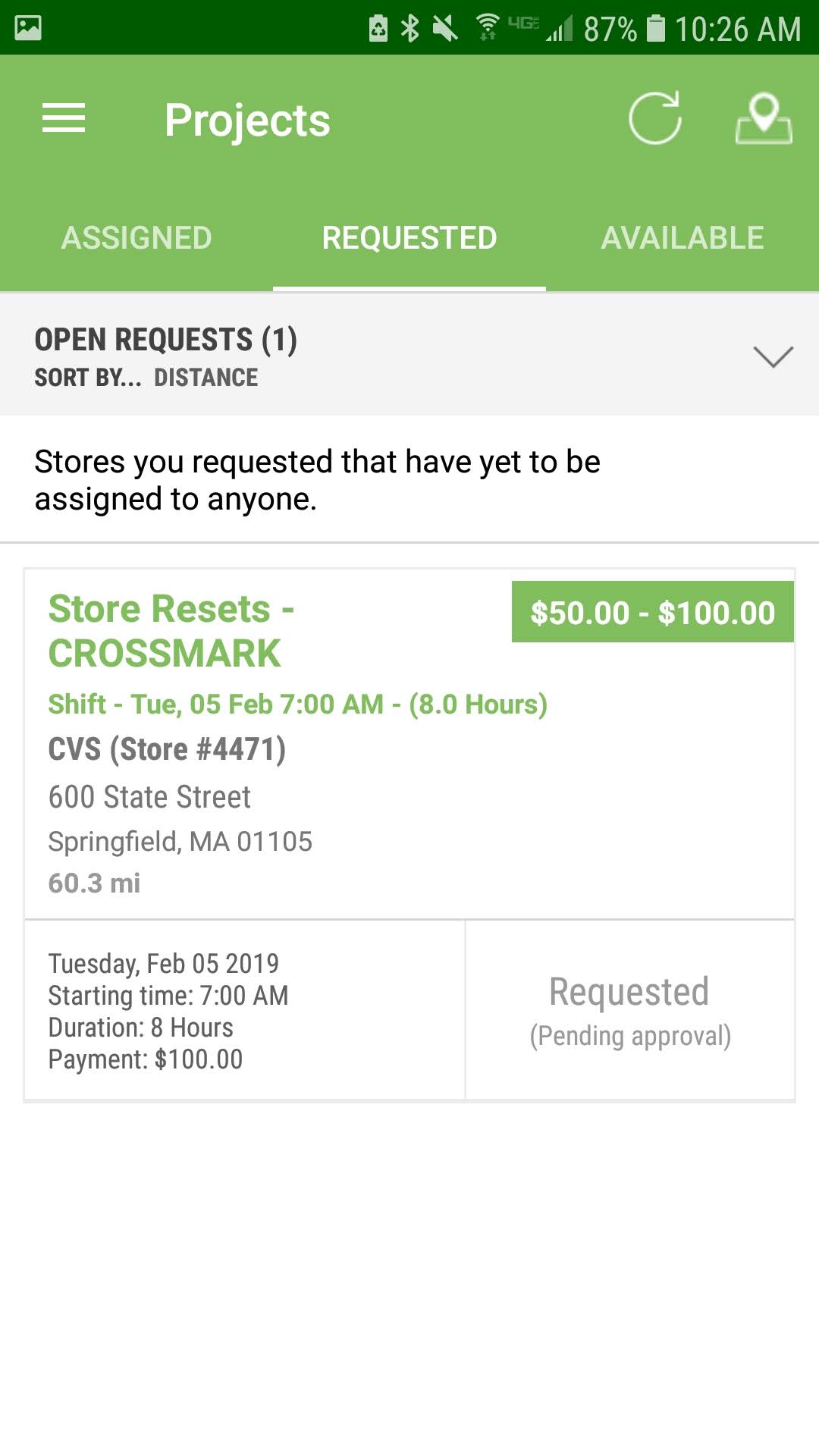 What happens after you request a reset assignment
Survey.com has a team of reset project managers who review the requests and assign the stores. Requesting does not guarantee you'll be assigned. In almost every case, the project manager will reach out to you to go over the details, such as:
Th

e

hours and days of the reset

Store

locations

Pay rate
The project manager may also confirm you know what to expect, have reliable transportation, and will answer any questions you have.
How to know if you have a reset assignment
Requesting an assignment does not mean you have been assigned. A Survey.com project manager must still assign the store to you.
Please note that you will NOT get assigned to every store you requested. Before you go to the store, please confirm that the store is in your Assigned list.
To check if the store is in your Assigned list, tap the Assigned tab. If you have an assignment, it will look like this: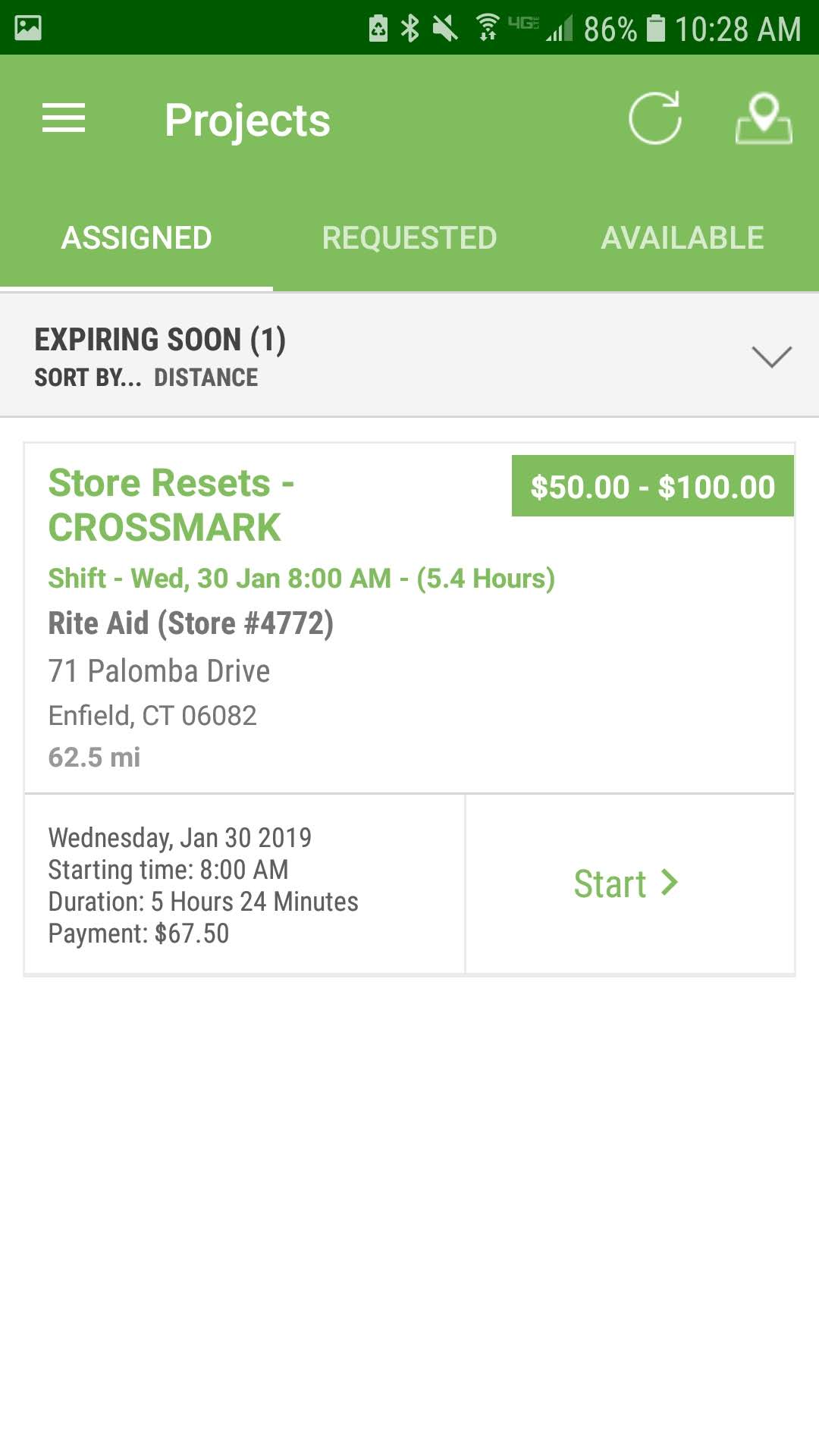 If you have other assignments, they will also appear on that list.
Again: If you do not see the store you requested on this list, it is not assigned to you and you should not go to the store.
How to know if you did not get assigned
After you request an assignment, the store appears in your Requested list. The status will show as Requested. If you get assigned, the store will move to your Assigned list and you'll be notified.
If you do not get assigned, the status will change to "Filled - Waiting in Line". This means that the store is fully assigned to other reps (that's what "filled" means in this case) but we will contact you if space opens up (that's what "Waiting in Line means in this case).
Unfortunately, space is limited so you will not get ever assignment you request.
How to confirm or decline your reset assignment
We will ask you to confirm or decline your assignment. This lets us make sure that you will be completing the reset and that we don't have to send someone else.
Here's what it looks like in the app. If you get your message via text (SMS) or email, you can just reply. You don't need to go to the app.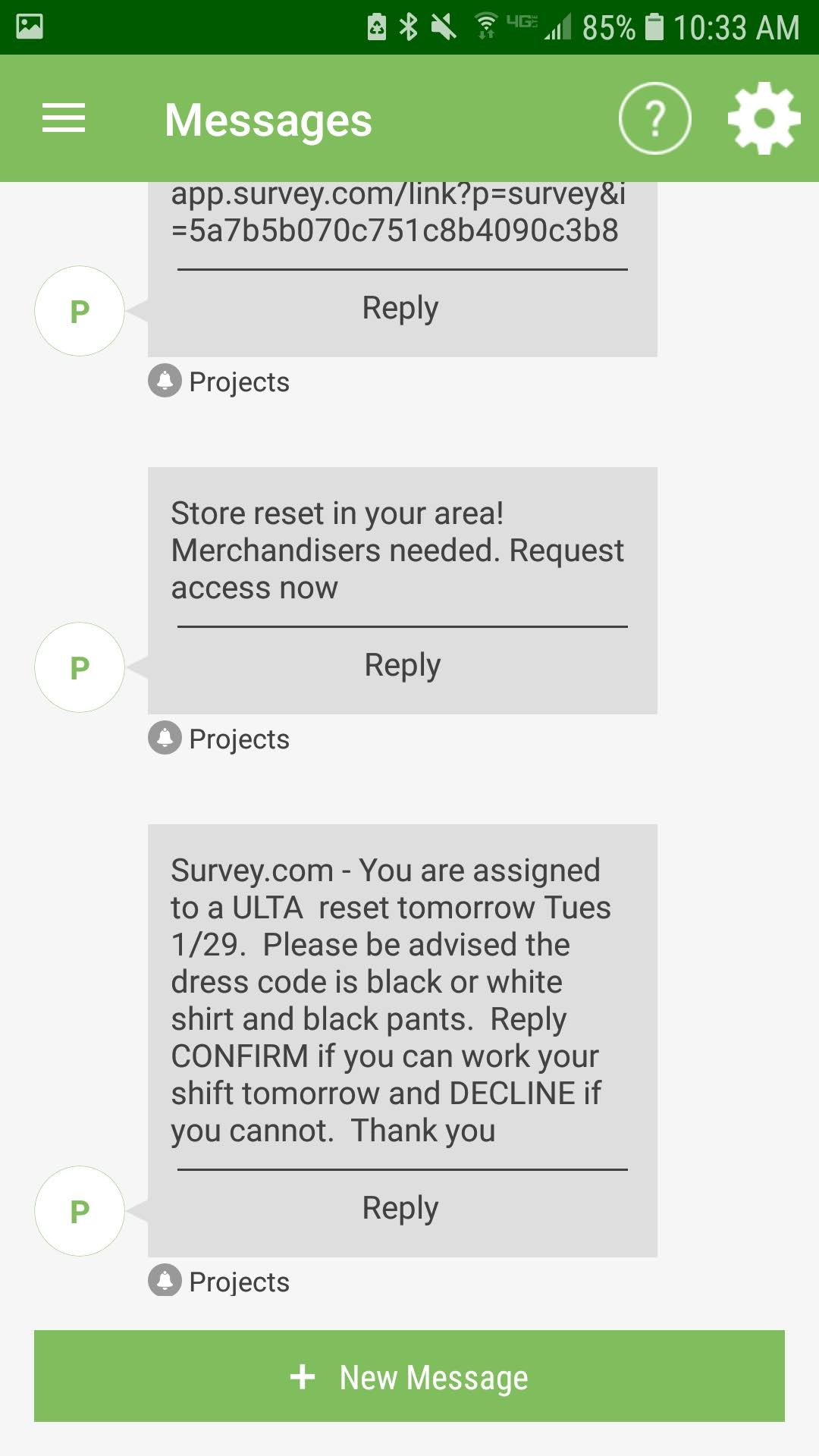 Tap Reply and the app will ask you to choose a category. Choose Assignments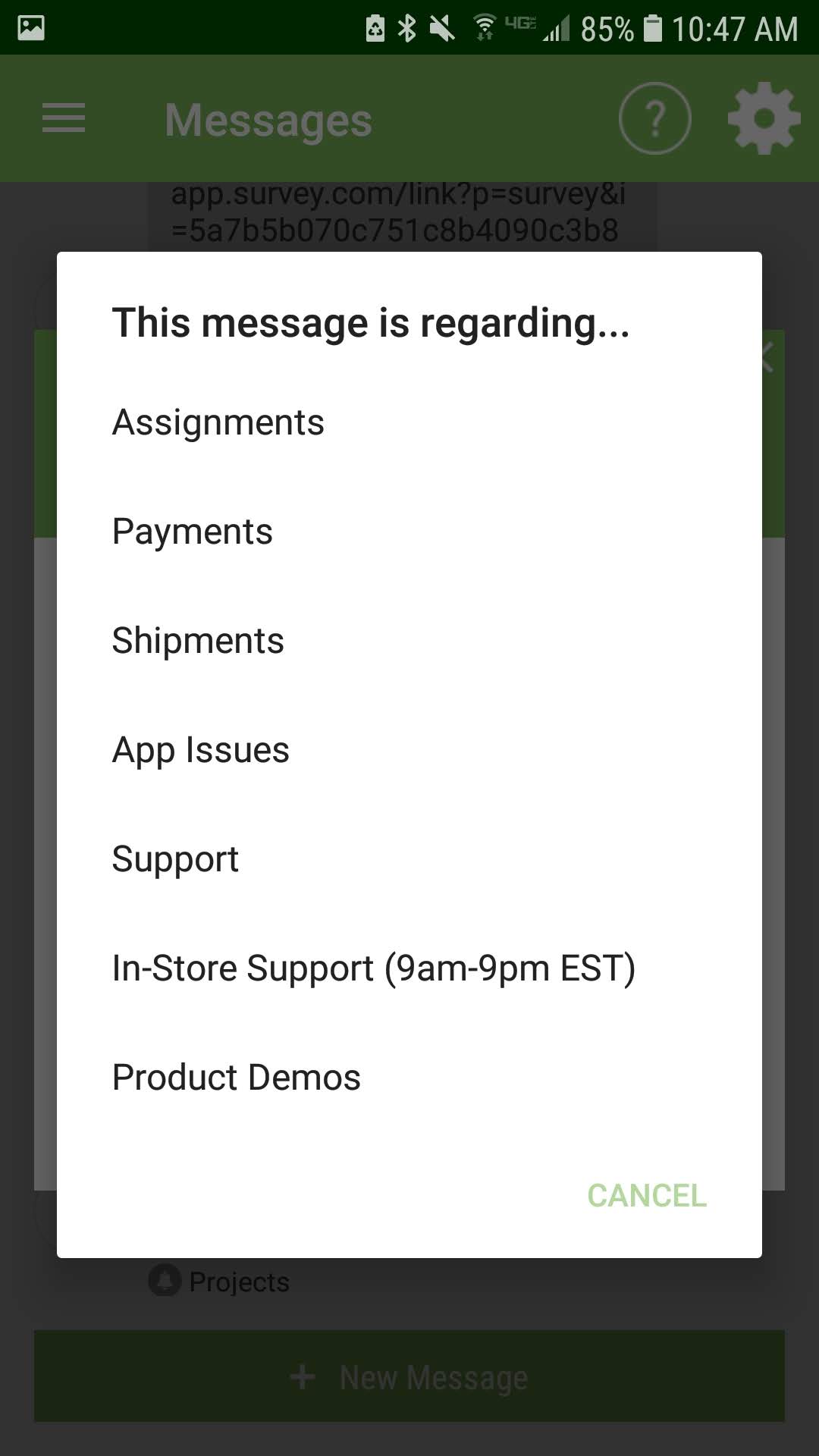 Then type confirm or decline and send. Feel free to add details if needed.
What to do if you are running late or need to cancel your assignment
If you are running late for some reason, please let us know through the app. Here's how:
Open the app and go to Messages by tapping the menu button (top left) and choosing Messages.
Tap + New Message
Choose In-Store Support or Support
Type your message
If you need to cancel, please reply to the person who scheduled you.
If you communicate with us via email or text, you can message that way as well.