The most common questions we get, by far, are how do I get paid and when do I get paid.
When will I get paid?
Your visits must be approved by Survey's review team
Completed assignments that satisfy all requirements are approved on a fixed schedule of six days from upload
To get paid, you must request the payment through the Survey Merchandiser app's Payment Center
Payments get processed the business day after you request them.
Approval Times: Completed assignments are approved on a fixed schedule. Assuming that the information and pictures you uploaded are accurate and complete, and that there are no revisions outstanding, your assignment gets approved six days after upload. This is a fixed schedule.
Payment Dates: Payments are processed on business days only. That means payments are processed M-F. Payments are not processed on weekends or holidays.
Payment Time: Payments are processed during normal business hours throughout the day. There is no way for Survey to estimate or tell you the exact time you will be paid, only the day you'll be paid. This is because Survey relies on a third party (Openforce) for payment processing.
Pre-Paid Debit Card Note: If you choose to have your earnings paid to a pre-paid debit card (set up through Openforce) you won't get paid until you have received and activated the card. Before you receive and activate the card, you will not get paid as described above. Once the card is active, you will be paid per the above.
A reset I completed shows as Pending. What does that mean?
When you upload a reset, its status in the app will be Pending. That is because the reset is pending approval. Our Quality Assurance (QA) team reviews every single visit uploaded by Survey reps.
Completed assignments that meet all requirements are approved six (6) days from when you upload your reset. Missing information (such as missing logbook pictures) can make the process take longer, so please make sure you follow all the instructions in the app and take clear photos.
The Pending amount is WRONG!
If the Pending pay for a reset you completed is incorrect, don't worry. It gets adjusted during the review process to reflect the hours you worked.
When you complete a reset, the amount shown in Pending is not always correct. That's because the pending amount is based on the expected number of hours you worked, not the actual hours you worked.
In some cases, the pending amount will be the hourly rate, not the amount you earned.
Each reset has a certain amount of hours it's supposed to take. You get paid for the hours you work (minimum payments apply in certain circumstances). When the QA team reviews your reset, they will enter in the hours you worked and approve it. There's no reason to be concerned by unless the Approved amount is different from what you expected. If it is, just contact us and we'll explain and fix if needed.
How do I request a payment?
There is only one way to request a payment, and that is to request it through the app's Payment Center. Here's how:
Step One: Tap the Menu button and choose Payment Center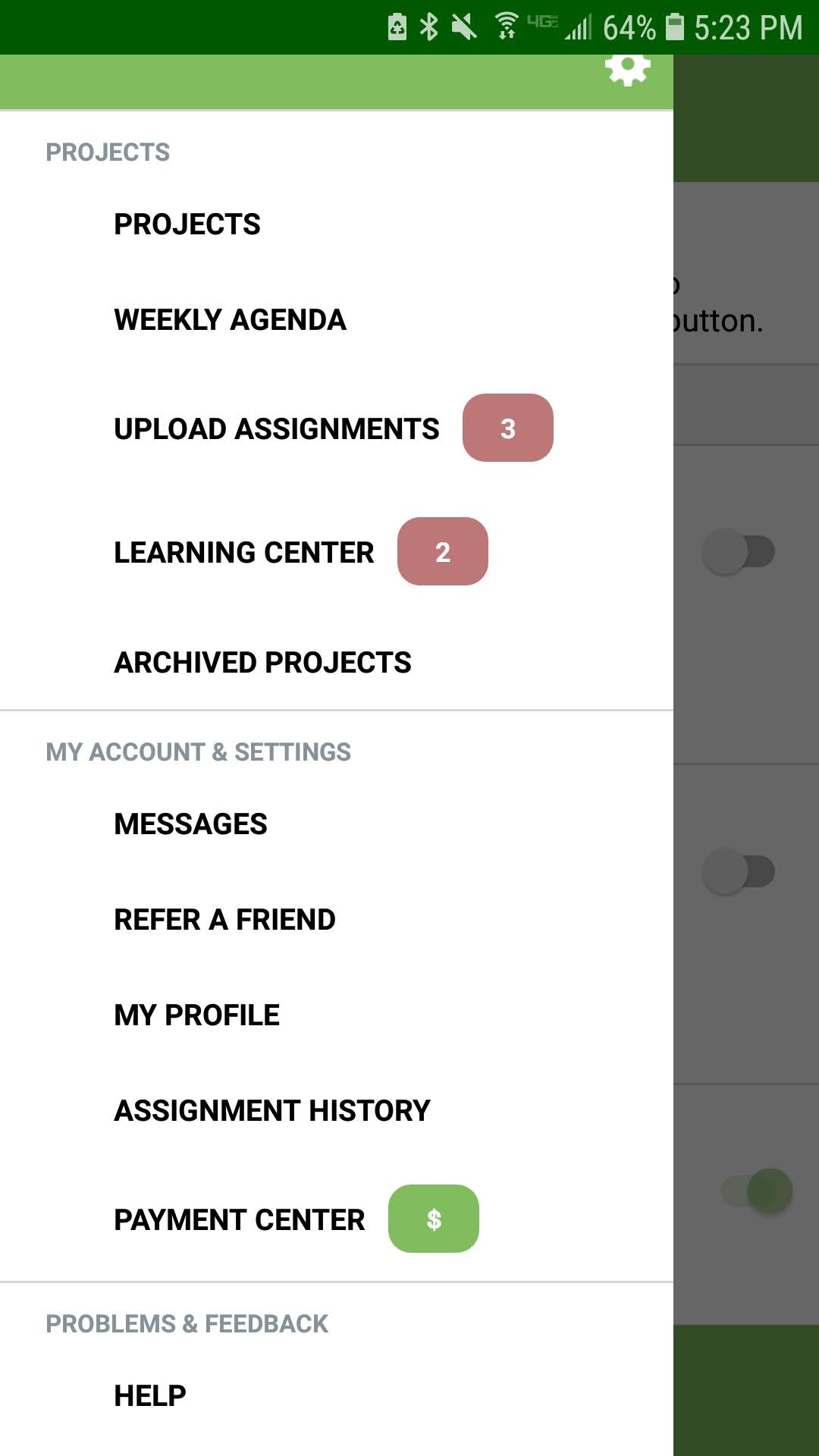 Step 2: Request Payment
This screen shows you your balance that is available to request as well as the balance that has not been approved yet. (Every reset has to be approved before you can request payment. Assuming you have satisfied all the requirements, your resets are approved six days from when you upload your assignment.
To request your payment, simply tap the Request Payment button.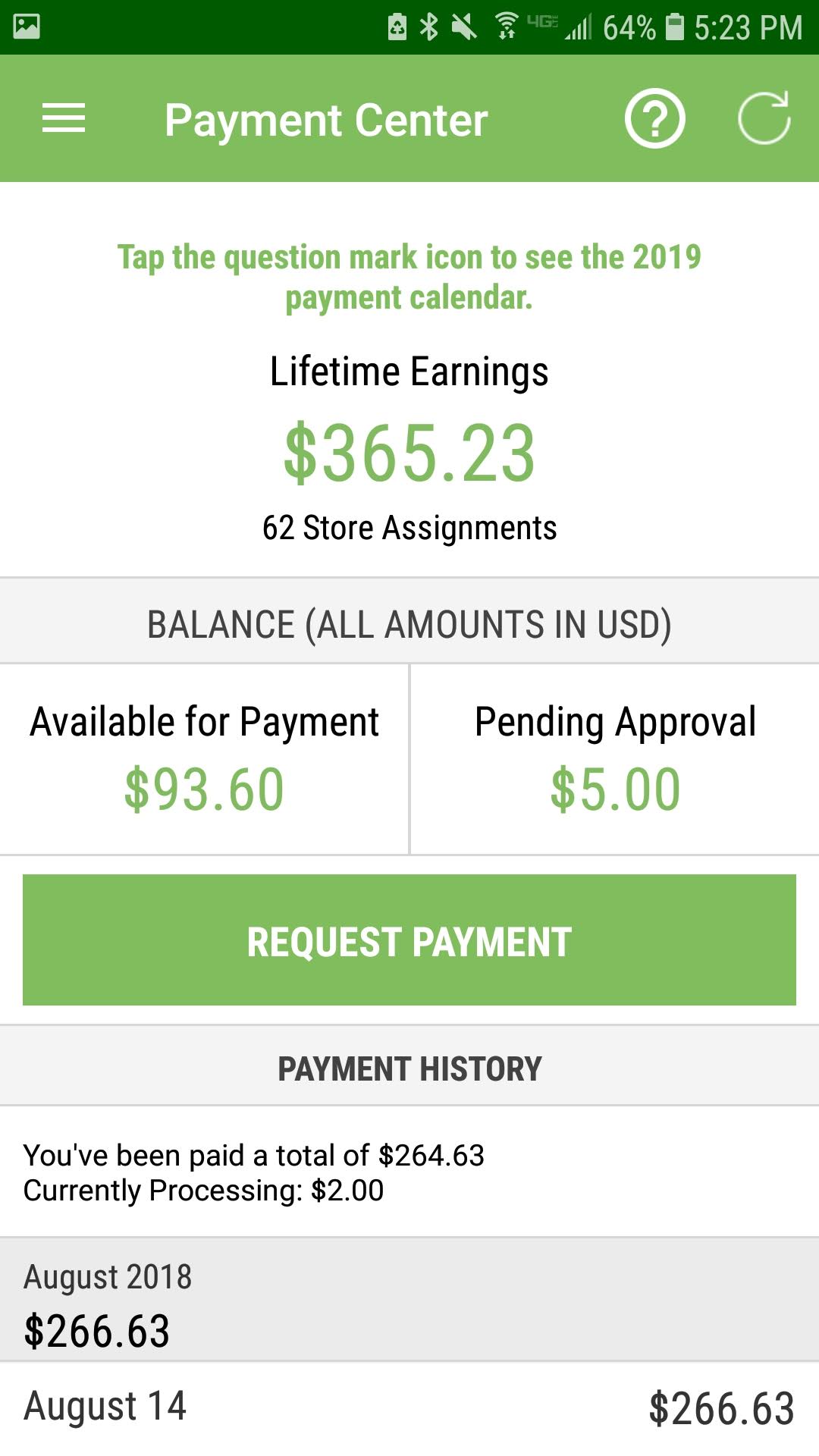 Step 3: Review the message, and Confirm.
Please note that the popup tells you when your payment will be made. It says by 11:59pm only because we cannot tell you exactly what time you'll be paid. This is because a third party company handles the payment processing.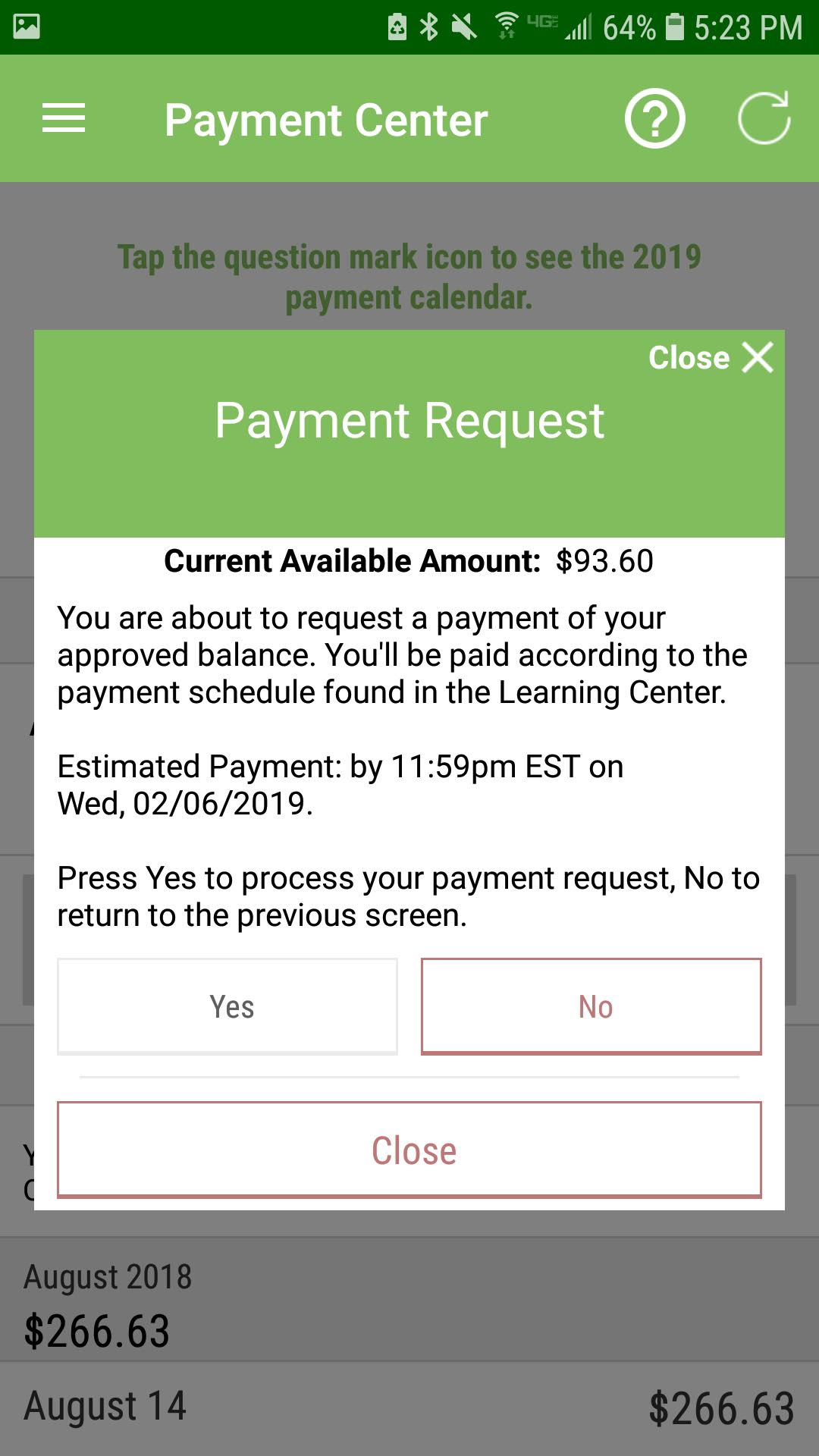 After you've requested your payment, it will appear in the Payment History section and it will include the estimated payment dates.
What are the Payment methods?
Survey's payment processing partner, Openforce, offers two ways to get paid:
* Direct Deposit
* Pre-paid Debit card
If you choose to get paid by debit card, the card will get mailed to you, which can take up to 10 business days to receive. You will NOT GET PAID until you have received and activated the card.
To learn more and enroll, go here: https://merchandiser.survey.com/openforce
Frequently Asked Questions about Payments:
I think I was incorrectly credited or paid for my reset. What should I do?
Please contact us through the app (go to Messages, + New Message, choose Support, and explain) and we'll help you. You can also email
support@survey.com
and include the email you use to login to your account, the store, the date of your reset, and a summary of the situation.
Some of my resets are still pending so I can't request them. What can I do?
Resets are approved six days from the day you upload the assignment.
I don't want to get paid via Openforce. What other options do I have?
Survey only pays via Openforce.